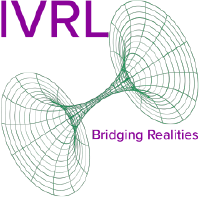 Overview
---
This privacy policy explains how and why IVRL collects, stores, uses, and shares personal information when you visit our websites or use our services. Reading it will help you understand your privacy rights and choices. By using IVRL's Site or Services, you agree to the collection and use of information in accordance with this privacy policy.
"Personal information" in this policy means information about you, including your identity, finances, and online behavior.
"IVRL" in this policy means IVRL Inc. This privacy policy applies to the IVRL branded websites, applications, and all products and services created by IVRL. By using our services you agree to this policy.
Changes To This Privacy Policy
We may update our Privacy Policy from time to time. We will notify you of any changes by posting the new Privacy Policy on this page.
You are advised to review this Privacy Policy periodically for any changes. Changes to this Privacy Policy are effective when they are posted on this page.
Children's Privacy
IVRL does not address, Children, described as anyone under the age of 18.
We do not knowingly collect personally identifiable information from anyone under the age of 18. If we become aware that we have collected Personal Information from Children without verification of parental consent, IVRL will take necessary steps to remove that information from our services. If you are a parent or guardian and you are aware that your Child/ren has/have provided us with Personal Information, please contact us.
Information We Collect
At this time IVRL does not collect or store any information that would be considered Personal Information.
Data associated with on chain transactions or IVRL gaming contracts is public and will be treated as such.
3rd Party Usage
What
IP address
wallet address
geolocation based on IP
email address
IVRL may contain links to other sites that are not operated by us. If you click on a third-party link, you will be directed to that third-party's site. We strongly advise you to review the Privacy Policy of every site you visit.
We have no control over and assume no responsibility for the content, privacy policies or practices of any third-party sites or services.
Your Rights
At any time if you no longer wish us to have your information you may:
note
If you close your account or request that we delete personal information, we still need to keep some personal information so we can:
Complete a transaction, provide goods or services you requested, or comply with our promises to you in the user agreement or other contract you have with us
Detect and prevent malicious, fraudulent, or illegal activity
Protect your (or another person's) legal rights, including the right to free speech
Manage our internal business processes that are reasonably related to your expectations when using our services
Comply with laws
Disclosure Of Data
Legal Requirements may require IVRL to disclose your Personal Information in good faith that such action is necessary to:
To comply with a legal obligation
To protect and defend the rights or property of IVRL
To prevent or investigate possible wrong doing in connection with IVRL
To protect the personal safety of users of IVRL or the public
To protect against legal liability

V. SECURITY OF DATA

The security of your data is important to us, but no method of transmission over the Internet, or method of electronic storage is 100% secure. While we strive to use commercially acceptable means to protect your Personal Information, we cannot guarantee its absolute security.
Contact Us
If you have any questions about this Privacy Policy, please contact us:
Email: pip@ivrl.io